Current situation of organ transplantation
《Science》article:《Inactivation of porcine endogenous retrovirus in pigs using CRISPR-Cas9》demonstrate:Xenotransplantation is a promising strategy to alleviate the shortage of organs for human transplantation. In addition to the concerns about pig-to-human immunological compatibility, the risk of cross-species transmission of porcine endogenous retroviruses (PERVs) has impeded the clinical application of this approach. We previously demonstrated the feasibility of inactivating PERV activity in an immortalized pig cell line. We now confirm that PERVs infect human cells, and we observe the horizontal transfer of PERVs among human cells. Using CRISPR-Cas9, we inactivated all of the PERVs in a porcine primary cell line and generated PERV-inactivated pigs via somatic cell nuclear transfer. Our study highlights the value of PERV inactivation to prevent cross-species viral transmission and demonstrates the successful production of PERV-inactivated animals to address the safety concern in clinical xenotransplantation.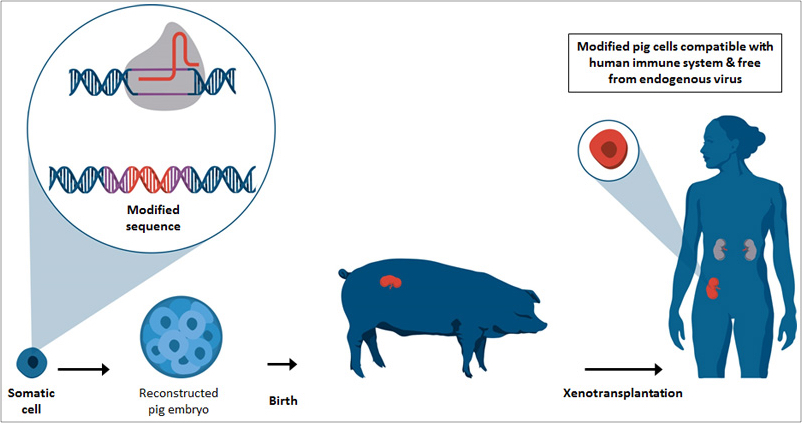 source: egenesisbio.com
In recent years, there has been a breakthrough in xenotransplantation, and Sunny Medical has gradually stepped into the field of xenotransplantation, and actively participated in relevant studies on pig organ xenotransplantation. In order to follow the international advaced technique and promote the in-depth academic exchanges between domestic and international scholars in the field of transplantation, Sunny Medical actively participated in and organized many international conferences on kidney transplantation, hoping to make a contribution to the progress of the organ transplantation around the world and bring benefits to patients with kidney disease.